'Tis the season to catch up on e-newsletters, emails, and blogs about the do's and don'ts of being safe during the holidays. As Bonney's Safety Manager, I wanted to take this opportunity to talk about a completely different safety-related topic: OSHA's Top 10 most frequently cited violations for 2022*.
The top 10 list has not changed significantly over the last 12 years. Fall protection remains number one, followed by hazard communications and respiratory protection.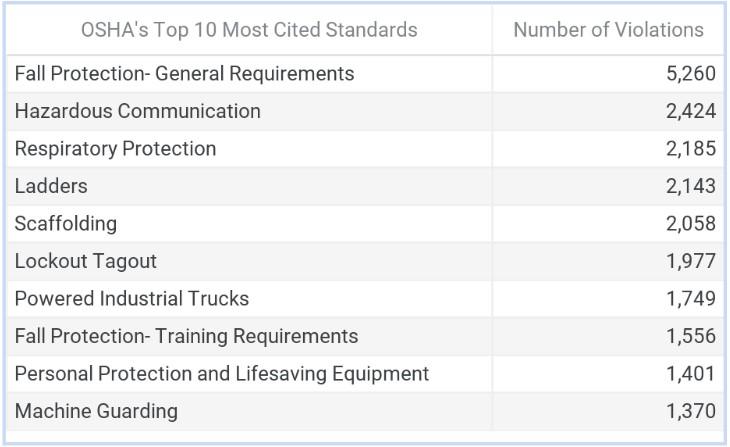 "Despite advances in workplace safety, we continue to see the same types of violations each year, it's more important than ever employers seek education and resources to keep their workers safe."


Lorraine Martin, National Safety Council President
Products and Services
There are several organizations that offer safety products and resources to help avoid OSHA's most common citations, including:
Fall Protection – General Requirements (1926.501):
Honeywell
Safety Rail Company
Sentry Protection Products
United Rentals, Inc.
Wooster Products, Inc.
Hazard Communication (1910.1200):
Sentry Protection Products
Ladders (1926.1053):
Sentry Protection Products
Wooster Products, Inc.
Respiratory Protection (1910.134):
Honeywell
Sentry Protection Products
TSI, Inc.
Scaffolding (1926.451):
Sentry Protection Products
Lockout/Tagout (1910.147):
Sentry Protection Products
Powered Industrial Trucks (1910.178):
Sentry Protection Products
Fall Protection – Training Requirements (1926.503):
Board of Certified Safety Professionals
Honeywell
SafeStart
Sentry Protection Products
Personal Protective and Lifesaving Equipment – Eye and Face Protection (1926.102):
Honeywell
Sentry Protection Products
Machine Guarding (1910.212):
Sentry Protection Products
Start 2023 Off Right
If your facility needs a new year's resolution, let me be your advocate! With 2022 coming to a close, what better way to start a new year than by planning for a safer workplace 2023?
While not all items identified in the OSHA top ten list apply to your industry or facility, this is a great time to start planning how to improve, update, or even install new processes, plans, and equipment.
Take a closer look at how the violations (trends) apply to your workplace. Are there areas to improve? What about going beyond minimum compliance? Be exceptional by going above and beyond. You will find that the outcome is rewarding — a safer workforce equals increased productivity and fewer injuries/illnesses.
Be safe, take care, and happy holidays! 
*For more information, refer to the December edition of the Safety+Health magazine.