In a labor market that appears to be heating up after monumental losses caused by the COVID-19 pandemic, employers are finding it hard to hire the workers they need to run at 100%.
Entry-level job seekers are hesitant about returning to work.
Government assistance is one of the top reasons entry-level job seekers are hesitant about returning to work. On top of $1,400 stimulus payments issued at the beginning of 2021, the average American is also bringing in extra money from tax returns and receiving assistance with family and living expenses.
Perhaps the most influential program for these workers is the additional $300 per week in wages without having to work. Unemployment wages are up significantly for entry-level workers when compared to their hourly wages, sometimes allowing them to bring in an extra $5 – $7 an hour while out of work.
Download our labor market outline to compare working wage vs. unemployment wage in your state.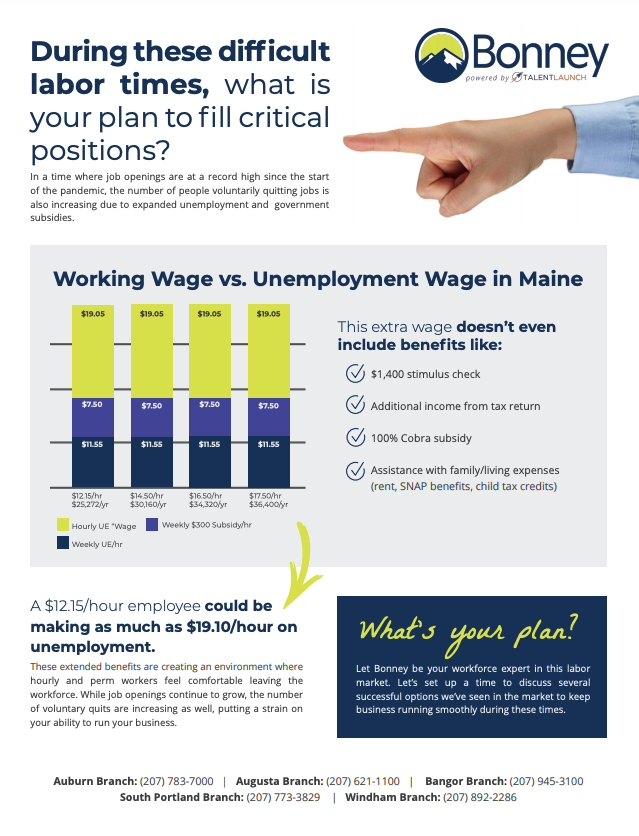 Maine Labor Market Outline
New Hampshire Labor Market Outline
North Carolina Labor Market Outline
These extended benefits are creating an environment where hourly and perm workers feel comfortable leaving the workforce. While job openings continue to grow, the number of voluntary quits are increasing as well, putting a strain on a lot of companies when it comes to running their business.
We've seen a lot of businesses getting creative when it comes to bringing new workers on board. Hiring bonuses, attendance bonuses, pay increases, referral payouts, and extended benefits are just a couple of the incentives for new hires.
Let Bonney be your workforce expert in this labor market. Get in contact with us to discuss several other successful options we've seen in the market to keep business running smoothly during these times.